From Greenland to Scotland – 1,200 miles in a 26′ Kayak
Sep 05th, 2016 / Nicki Chick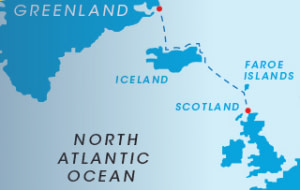 World's first documented crossing by Kayak from Greenland to Scotland has been completed by World record holding British Adventurers Olly Hicks and George Bullard
This summer, British explorers Olly Hicks and George Bullard set out to attempt the world's first documented crossing from Greenland to Scotland by kayak. The expedition covered over 1,200 miles at sea, taking the team over 2 months to complete having left the UK. Olly and George arrived today at Balnakeil Bay, Cape Wrath, Near Durness in Scotland having undertaken a hazardous journey from the shores of Eastern Greenland to the northern Scottish Isles.
They arrived in Scotland yesterday… read their blog with full-on details of their adventure
Our team at Parsons Green look forward to seeing you back for some massage & rehab physio… when you've had some sleep!