Hermione has won a Pro Tournament
Jul 03rd, 2013 / Nicki Chick
After only 6 months back on the Ladies Pro Circuit, Hermione won a Pro Tournament at Hever Castle.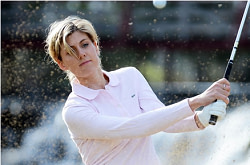 In her own words, she thanks the team at Harley Street:
"I've had a huge amount of help in getting back on the golf course from all the team at Six Physio Harley Street, and since Beth left to go on maternity leave I've been seeing Jeremy once a week for treatment, and he has been equally fantastic. Ailish is continuing to help me with my rehab work and strengthening to help me become less injury prone and  of course to hit the golf ball further. We still have some way to go to, but the improvement I have made its huge, and I'm determined to keep working hard to get better and better."
I feel really confident that I have the right team around me now, and I know I will continue to get improve as the months go on and particularly leading up to  Ladies European Tour School which I imagine will be in December.
We wish her all the best, and will keep you updated with her progress