Hot Topics, Sponsorship, Sports
Olly Hicks at the Royal Geographical Society
Oct 28th, 2016
Olly Hicks at the Royal Geographical Society
Oct 28th, 2016 / Nicki Chick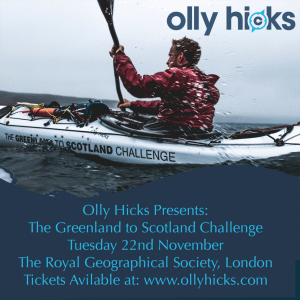 Our followers are the lucky ones – a discount off the hottest ticket in town!
Olly Hicks is recounting his last epic adventure on 22nd November at Royal Geographical Society
On the 22nd November explorers Olly Hicks and George Bullard will recount an evening of adventure from their latest expedtion – A sea Kayaking journey of over 1,500 miles from Greenland to Scotland.
Come and hear about this world first voyage at the Royal Geographical Society, presented with slides, video and a Q&A session.
For your 20% discount use code 6Physio… link here: