Congratulations to Jo, from Kensington – you won!!!
Aug 19th, 2014 / Nicki Chick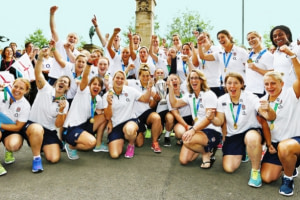 T
hey've changed the preconceptions of Women's Rugby: Less than 48 hours ago, Jo McGilchrist and her team won the Women's Rugby World Cup 2014.
New Zealand had been knocked out, they'd beaten Ireland to get to the final, and then all they had to do was beat Canada. They did it in style, all matches were worth watching and the IRB are taking them seriously! Welcome Home.
CONGRATULATIONS Jo, who plays for Wasps, and your England team.