Hermione has been preparing for the season ahead
Mar 31st, 2014 / Nicki Chick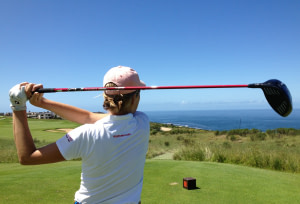 Hermione's blog for us: It's been about a month now since I returned from South Africa, and in that time I've spent rather a lot of time at Six Physio!
I wasn't in particularly good shape when I returned from my travels, and I immediately wanted to get better. That wasn't quite going to happen but I've put in a lot of hard work with Beth and Ailish, and I hope things are going the right way. I'm certainly starting to feel a bit better, and yesterday I hit about 25 golf balls without too much discomfort so things are looking up.
Beth and Ailish feel that since the car accident I had back in October I have got a lot weaker, because of the pain and discomfort I was in, which consequently didn't help my golf and in turn made me worse again. A vicious circle!
I've been under strict instructions to work hard at increasingly my all round core strength that will help with everything, a lot of shoulder stability exercises as well as increasing my general neck strength.
I have plans to go to Florida at some stage soon to practice ahead of the forthcoming season, which has meant I've been a little impatient. Every time I'm at Six Physio I ask for permission to book my flights, thankfully I was given the go ahead to go in 10 days time. This means that between now and then I'll be at the Harley Street clinic a lot more to make sure I'm fit and ready to go and start playing.