Its true: our advice can help people achieve their goals!
Mar 14th, 2013 / Nicki Chick
One of our patients has just cycled 1200KM to Cannes….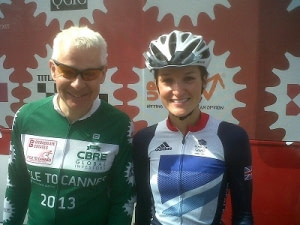 Here is Tim with the Olympic Road Race Silver Medallist, Lizzie Armistead…..
Not sure she's just done the 1200KM, but TIm has to raise money for the Fetal Unit at King's College Hospital. Well done from all of us at SIX.
And Tim says thank you to our very own Gary Jones & Matt Todman for their help & support.
"I couldn't have done it without you."