Praise for our Bike Fit
Jul 27th, 2017 / Nicki Chick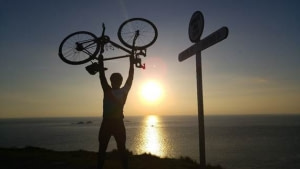 I just wanted to thank you for your help assessing my bike fitting and your strong words of advice not to mess with it – which I didn't!
It was all worth while as the ride was a big success. A rollercoaster of highs and lows: emotionally, physically, topographically and scenically.
To be outside for 12 days is a strange concept but to see the entire length of the country from the back of a bike was very special, but not to be underestimated and had to dig very deep on several occasions to keep the pedals turning.
From one Happy Patient…. thanks to Stephen Garvey