Phil thanks Peter Gyorgyorvich after Marathon des Sables
Apr 27th, 2015 / Nicki Chick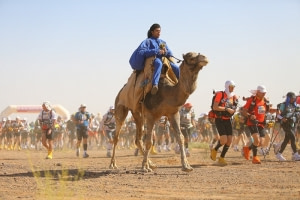 Well the 30th Marathon des Sables certainly lived up to it's reputation. It was long, tough, challenging but an amazing race and luckily this year, not so hot, around 30 – 35c. Back in reality now and still starving everyday and bizarrely still losing weight. Running 250km across the Sahara certainly gives you an appetite burns off any excess.
The race consisted of 5 competitive stages (36,31,36,92,42) and the 11km charity stage to finish, so a very long way carrying all your kit and food. Checkpoints were every 12km or so, where we were given 1.5l or 3l of water depending on the severity of the stage. Luckily my pack weighed about 7.5kg at the beginning so with water about 9kg. It was great literally eating my way through it and everyday it feeling a little lighter. This year the sand wasn't too bad but this was replaced by "jabels" or hills and very windy conditions. Everyday we seemed to be running into a headwind, no matter which way we turned. This meant lots of sand and dust in the air and sleeping at night proved difficult, especially when our Berber tent blew down. The scenery was incredible with vast rocky landscapes, salt flats, sand dunes – a very harsh environment for the unprepared. Bizarrely this year there was even some "green" bits in the desert, and a lake – with water in it!
Overall, I placed 147th out of about 1400 entrants, 14th in my age group and 1st New Zealander, so a very pleasing result and nearly 100 places better than last year. I think some of the key reasons for my improvement were a lighter pack weight, quicker transition through the checkpoints, and being completely injury free. No niggles, nothing, which I put down to pre emptive sports massage and training. It certainly made a difference. Oh and no blisters!! Some runner got horrendous blisters which made their race extra tough. Preparation is key.
So now it seems there is large void in my daily routine – no running, no pressure of training, no stresses of such a large race looming ever closer and no kit organising. It is nice to sit back and relax, but I know I can't do that for long. So very tempting to think of what the next challenge might be. Who knows but I'm sure it'll be fun.
Thanks to Peter at Six Physio, an excellent sports massage therapist and his help along the way. It certainly makes a difference.