The Toughest Footrace on earth starts this Sunday…
Mar 31st, 2015 / Nicki Chick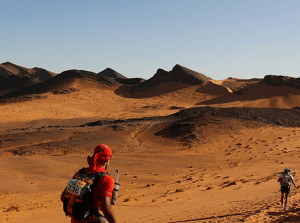 On Sunday I will line up on the start line of the 30th Marathon des Sables in the Southern Sahara, Morocco with about 1400 other runners from all around the world, about to begin an amazing adventure across the sands.
The training is all done, bar one more session in the 40 degree heat chamber, so time for a final massage at Six Physio. I've got no injuries and I'm feeling fit and strong, hopefully well prepared for the challenge ahead. My backpack is full to the brim with about 4kgs of dehydrated food, snack bars and gels, sleeping bag and compulsory kit (which even includes a venom pump in case of a scorpion or snake bite!). This year I've trimmed the weight down to 7.5kgs, and once we get our initial 1.5 litres of water to start with, it'll be about 9kgs all up. Significantly lighter than last year when I was bogged down by over 11kgs. A "light" pack is key in this race.
It's going to be a very tough event this year due to extra long distances, so will just have to take one checkpoint (every 10km or so) at a time and keep moving forward. Looking at latest weather forecasts, it doesn't look too hot at the moment (around 30 degrees), but I'm sure once we are out there amongst the endless sand and rocks that make up the Mars like landscape of the desert, temperatures will rise.
Thanks for all the support Six Physio. Great massages – you have got me to the start line in one piece. Now the fun begins!
Phil's number is 704 and you can follow his progress on their website