Hermione explains how improving strength and stability is crucial for a professional golfer
Sep 04th, 2014 / Nicki Chick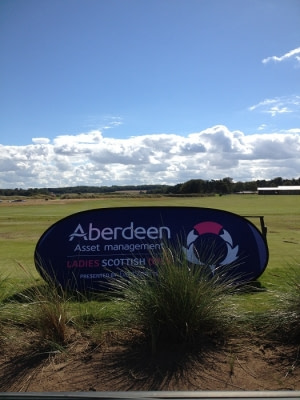 Over the last few months I have continued to work hard with all the team at Six Physio to keep me on track for the busy tournament schedule coming up over the Autumn.
It's all work in progress, but Ailish is seeing improvement in my overall strength and is pleased with how my body is holding up to the busy schedule of a professional golfer. It's not just the playing, but the constant travel and lugging of heavy golf equipment (when it turns up at airports!) that can take it's toll.
When I've had a busy few weeks on the road I've been in to have a sports massage from Gary which has helped a huge deal to keep me feeling 'tip top'.
Last week I was fortunate to play in the Aberdeen Asset Management Ladies Scottish Open at Archerfield Golf Club near Edinburgh: it's one of the most prestigious events on the Ladies European Tour and involves playing in a 'Pro Am' format which means that there were various business people and celebrities from the sporting world who all enjoy a big competition.
It was a great experience and I have learnt lots from it: I know what I need to work on for the future. I will need to continue to work hard with Ailish to improve my neck and shoulder stability, and power in my legs and core strength. The improvement I have made with all the help at Six Physio is vast, but to compete at the highest level I need to keep going and working hard.
It's a good thing that I know I am in good hands and going to the right place!